Hey there!
I recently read the book,
Classic Style
, by Kate Schelter. It was a great read and gave a totally different message than what I was expecting. After reading most fashion magazines article or books, I usually feel like I need to add a ton of expensive, "trendy" items to my wardrobe. This book stated the complete opposite. Kate suggests figuring out what your own personal style is, and embracing it to the fullest. She believes you need to find the pieces of clothing or accessories that make you feel good and that make you feel like the best version of you. While she does believe in investing in quality, classic staples for your wardrobe, she helped shed some light on why you should not invest your entire life savings into trends that will come and go. After finishing the book, I promptly gutted my closet of all things that either were not a true representation of my style or something I did not absolutely love myself in. I am now refocusing my efforts (sometimes hopelessly) to only purchasing pieces that one, represent my style, and two, are going to be good investments and last me for years to come.
One of my favorite parts of her book (besides the beautiful watercolors) were the "interviews" she held with some of her friends and mentors. I thought it would be fun to interview myself and share it on the blog so we can get to know each other better!
Quick description of your overall look:
Classic, Preppy, Comfortable
Fragrance:
Chanel COCO Noir
Can't cook without:
Onions
Flowers:
Sunflowers and Hydrangeas
Favorite accessory:
Pearls
Makes you feel at home:
Clean sheets
Most worn-out shoes:
My favorite leopard flats from Jcrew. Unfortunately, I wore them so much the sole is now detached from the rest of the shoe...
Instrument of choice:
My voice (I am a chorus teacher by day!)
Favorite hotel:
Forsyth Park Inn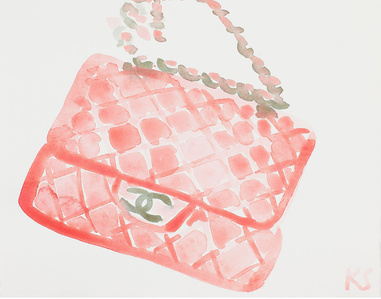 Sentimental gift you received:
For a wedding gift, my husband's grandmother gives each couple a picture album of that grandchild through the years. Josh and I have an ongoing debate about who was the cuter baby...
Skill you dream of mastering:
Interior decorating- I decorate as a hobby (in my own house) but would love to take some classes one day!
Shoe obsession:
I love flats (I hardly ever wear heels)
Below are some I would love to add to my closet:
Charlotte Olympia Flats
Salvatore Ferragamo Varina Flats
Chanel Flats
Wrist watch:
Kate Spade Gramercy Grand Watch in Gold
Makeup:
Full coverage but simple (The only eye-makeup I wear is
mascara
)
Favorite fabric pattern:
Buffalo check and gingham
Dishes:
Lenox Opal Innocence
Nail polish color:
OPI Stop it, I'm Blushing!
Ice cream flavor:
Rocky Road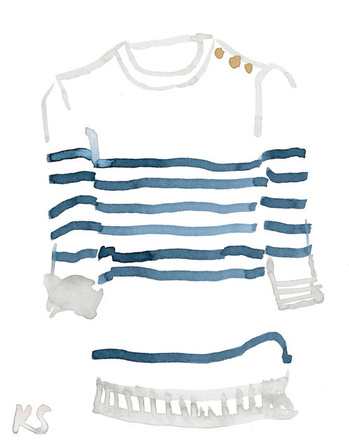 Style inspirations:
Sarah Vickers
, Jackie Kennedy, Kate Middleton
Oldest item in your wardrobe:
One of my Papaw's T-shirts
Favorite discovery:
Pinterest
Favorite restaurant and dish:
Hanger Steak with Potato Cakes at 300 East - Charlotte
Necessary extravagance:
Monthly manicures and pedicures
Makes you feel cozy:
Curling up on the couch with a blanket made by my husband's grandmother, sipping a homemade Chai tea latte, wearing a flannel pj set with fuzzy socks and reading a good book
Your daily uniform:
Jeans or slacks, Jcrew
Tippi sweater
or
striped t-shirt
, flats and
pearls
Product you've used since high school:
Dove deodorant
Worn-out childhood toy:
Molly, my stuffed doll I've had since I was born
Always in your fridge:
Cheese (It's a food group right?)
Never leave the house without:
Painted toe nails. It has probably been 10 years since I have had them not painted...
Inside your handbag:
My favorite
lipgloss
, sunglasses, wallet, monthly planner
On your night stand:
A stack of unread novels, chapstick, earplugs (I'm a light sleeper)

I hope you enjoyed getting to know me a little better. I would love for you to share some information about yourself. Feel free to leave a comment! :-)